>>> Da Nang airport pick up and transfer service
Deserted beaches, treehouses with a sea breeze and snorkelling in crystal clear waters … our readers recommend idyllic islands in Asia where you can live out your escapist fantasy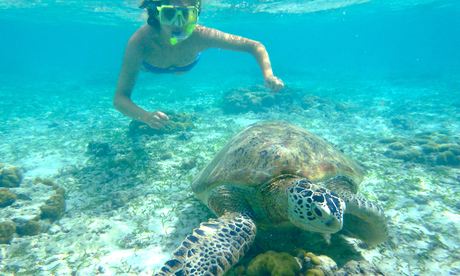 Pom Pom Island, Malaysia … 'The feeling of wading into glass-like waters and finding oneself among giant green turtles has to be experienced'. Photograph: daytripper246/Guardian Witness
Winning tip: Pom Pom Island, Malaysia
Profoundly (almost impossibly) beautiful, this island in the Semporna archipelago, is betrayed by mere pictures and words. The feeling of wading into glass-like waters and finding oneself among giant green turtles and rays has to be experienced. Such an encounter is regular on this tiny speck of land, which would be deserted were it not for two sleepy resorts (pompomisland.com). The ivory beach that circles the island is pristine and largely empty. daytripper246.
Tioman Island, Malaysia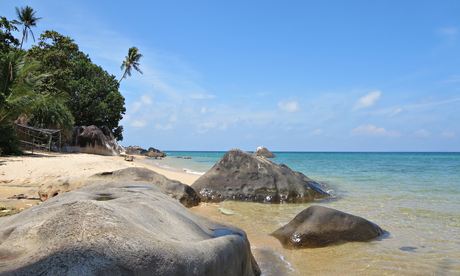 Photograph: Joe Levy-Brown/Guardian Witness
Glowing coral reef fish, colugos flying from tree to tree, monitor lizards, giant squirrels skittering across the roof at night – Tioman is an island of golden sand with a rainforest at its heart. When we set off into the jungle behind our house on our first night, a four-foot snake lazily uncurled itself at eye-level from a tree in front of us. We stayed in a treehouse leaning out over the beach at the Melina Beach Hotel (tioman-melinabeach.com, two-bedroom properties from £44 a night), only accessible by boat or footpath. At night our beds swayed with the branches.


Joe Levy-Brown
Koh Rong Samloem, Cambodia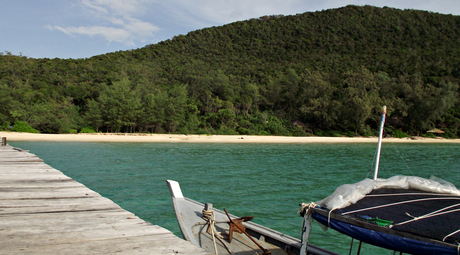 Photograph: Bruno Ouvard/Guardian Witness
The island is mostly designed to accommodate divers but beach bumsare also welcome. The accommodations are basic bungalows with a balcony nearly on the sizzling hot sand, by the clear warm sea. There is only electricity in the evening for about three hours. The rest of the time all you have to do is lie on the beach, swim, read and walk through the jungle to the other side of the island. The last boat leaves the island at 4pm, after that you are on your own for the night.


Bruno Ouvard
Baros, Kaafu Atoll, Maldives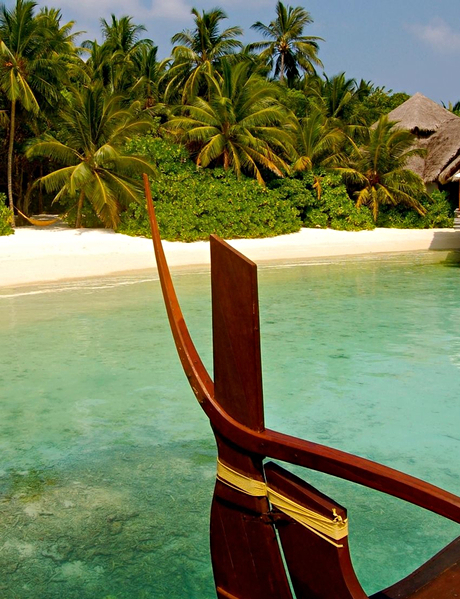 Photograph: scratchvideo//Guardian Witness
This small, intimate and utterly luxurious island is the embodiment of paradise. It is the smallest island I've ever visited – you can walk around it in 10 minutes. We spent a week swimming, bathing, snorkelling, kayaking, and eating and drinking at the relaxing bars and restaurants above the lapping surf. There are sandbanks to be explored and dined upon and dolphin tours and Dhoni cruises at sunset.

scratchvideo
Malapascua, Cebu, Philippines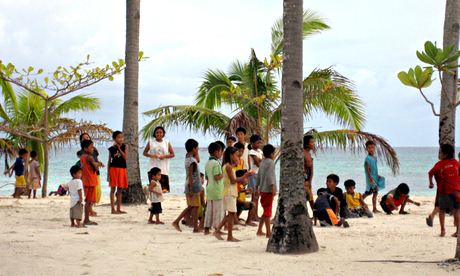 Photograph: Sober/Guardian Witness
A tiny gem of an island surrounded by coral reefs. Access is rather difficult, so most tourists don't bother. Thus Malapascua's day-to-day life is still intact, with kids playing on the beaches before school, fishermen going about their business and women collecting shells throughout the day. Here nobody will ask you if you want a massage or a coconut or god knows what else.

Sober
Virgin Island, Panglao, Bohol, Philippines
When you stay beachside in Panglao the last thing you want to do is travel. But when your boat pulls into the subtle cove of near-by Virgin Island you'll be stunned into silence. Before you know it someone will offer you a sea urchin to suck, a fried banana to savour, or a cocktail to slurp. Your ankles are covered in water as your feet sink into the sand-bar you're on. And that sea urchin actually tastes pretty good, especially with a squirt of coconut vinegar, sun on your face, and sea seeping into your sandals.

ID910128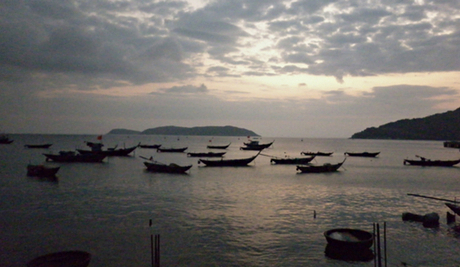 Photograph: Sahar Hadidimoud/Guardian Witness
This cluster of eight islands off Hoi An, most of which are uninhabited, is my paradise and the lack of tourists is a huge attraction. Cham let me experience everything short of Crusoe's cannibals: swimming in bioluminescent waters, exploring luscious jungle by moped, building fires on secluded beaches, and waking up covered in sand with snake-tracks all around.


Sahar Hadidimoud
Long Island, Andaman Islands, India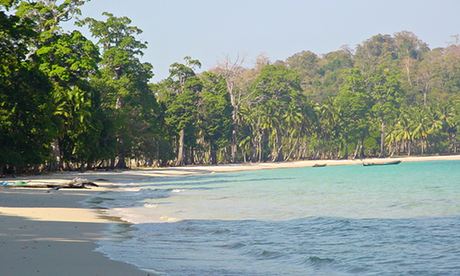 Photograph: Gary White/Guardian Witness
The beach here has crystal clear waters, and is totally secluded – and perfect for camping. Large trees have fallen along the shoreline, creating a perfect windbreak to make a fire for cooking with fresh water from the well at the far end of the beach. We strung our hammocks up in the trees, so in the morning we simply had to open our eyes to see the beautiful sunrise.

Gary White
Thinnakara Island, India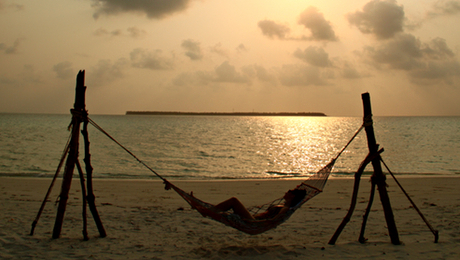 Photograph: Missschaaf/Guardian Witness
The exceptionally beautiful Thinnakara is less than a mile square, with sand as soft and white as flour. It's part of Lakshadweep (lakshadweeptourism.com), a chain of 36 coral islands about 150 miles west of Kerala, southern India. Only 10 islands are inhabited and visitors are allowed to stay on four, including Thinnakara, where you are accommodated in large comfortable tents on the beach. The lagoon surrounding the island and its colourful fish, coral and turtles are best explored by snorkelling, scuba diving or kayaking.

Missschaaf
Banyak Islands, North Sumatra, Indonesia
Six hours by bus from Medan ( capital of North Sumatra) to Singkil, then a four hour ferry trip, these islands are truly wild and untouched. Great surfing, snorkelling among pristine coral reefs, dolphins, turtles and thousands of fish await those who venture there. The impeccable Lyla bungalows is a small resort in Pulau Palembak with a clean water well, bungalows and a generator. If you feel more adventurous you can also buy provisions in Balai on your arrival and agree with a local fisherman to drop you at any of the numerous little inhabited islands in the archipelago.

Sumatraecotourism.Com
Nicewahoo